May we all achieve the top mark in 2020!
Our warmest wishes for a healthy, happy and prosperous New Year.
We are pleased to continue our support to charity, cultural, educational and sports organisations or talented individuals dedicated to any of those fields.
Our commitment this year goes to an Artist, Olivier Vincent. Olivier is a self-taught artist born in 1970, French of Korean origin. He works in the south of France. Olivier has a deep sense of humor. Inspired by the greatest contemporary artists (Keith Hanning, Ron Arad …). The mastery of his technique allowed him to search in forms and materials, the pleasure of the senses. In 2006 he began to create his « Shadows » series on large aluminum panels. The shadows embrace, merge play with the viewer. The bright colors and the effects of relief and materials give life to a joyous farandole of ephemeral forms. Attracted, fascinated, the eye seeks a landmark, a direction to this variegated fantasia. Each work appeals to the sensitivity and sensuality of each of us. Artist or magician, it brings back in us emotions very buried in our subconscious, this quest for happiness that is sometimes childish in the dehumanized world of today.
We are delighted to share with you one of his paintings below: "Perky", 2016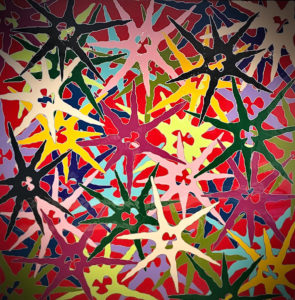 "Perky", 2016, Olivier Vincent, Polyurethane paint on aluminium, 193x193x4 cm
"What interested me most in this work is the combination of colours and the game of overlays
that bring out the reflections of the gloss of the varnish…"
With our gratitude and thanks
for your continued support and trust over the years.
Your devoted Mt Fort Advisers Team